All About Bluetooth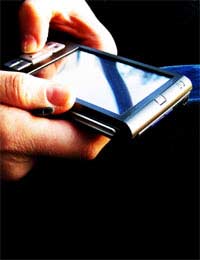 What do a Viking king and the cutting edge of mobile phone technology have in common? They're both called Bluetooth and both hailed for their ability to unite disparate elements.
Bluetooth Applications and Services
Bluetooth is a technological innovation that connects devices together with radio rather than cables. Computers, mobiles, monitors, mice, hands-free kits, keyboards, in fact anything fitted with a Bluetooth chip can detect one another in their local vicinity and communicate remotely. It is commonly used to send data such as photos, videos, audio files, applications and business cards from mobile phones to other mobiles and computers.
Bluetooth is not merely a tool for keeping your home and office free of messy cables and bothersome configurations, however. Its sheer beauty is in allowing users to seamlessly synchronise information between devices.
So if your mobile address book or calendar is not as up to date as that on your laptop, all you need to do is place the two devices near one another and the mobile phone is instantly updated, as if by magic. In fact they can synch without bothering to ask you first!
Bluetooth Inspiration
The 10th century Danish Viking king Blatland – or Bluetooth as he's known in English – may have not known anything about mobile technology but he knew a thing or two about bringing together different groups when he united the battling tribes of Denmark and Norway. And it is this that inspired the technology's unusual name.
Blatland would certainly have been proud of this honour but at the same time utterly bemused it. After all he's not someone whose life is likely to have been troubled by fiddly cables.
Remote Communications and Services
Bluetooth did not arrive like a bolt out of the blue, technology brains have for years tried to develop innovations that would negate the need for cables. The chief antecedent of Bluetooth was infrared or IR, but having been designed in the late 1970s, the technology is now somewhat outdated. For instance, it would struggle to navigate the complex multi-layered menus of today's mobile phones.
Also, IR relies on a restrictive 'line of sight' to communicate between devices. With Bluetooth, the devices only need to be within range of one another. This is typically within around 10 metres for mobile phones. So in theory your mobile could be sitting on the living room table and still be able to 'talk' to your computer upstairs in the loft.
How Does Bluetooth Work?
How does Bluetooth manage such amazing feats if not with magic? It all works using radio chips. These chips connect using the 2.45 GHz radio band common to microwave ovens and cordless telephones. To send data this way, you first must first enable your Bluetooth function and then tell your mobile to find the name of a particular mobile or computer you want to connect with. This could be personalised name or just model name of the phone.
In order to remain secure, Bluetooth devices continually change the radio frequency they use to help stop eavesdropping. In addition to this, to stop mobile phones hooking up with every Bluetooth-enabled gadget it meets, each device has an individual ID and so before communication can take place you have to authorise the connection by entering a special pin number.
Bluetooth isn't the new king of wireless communications - with its 1Mb per second speed it's not powerful enough to replace the much faster 10 to 54Mbps range of proper wireless networks. However, the reason it has now been adopted by thousands of electronic companies and millions of mobile phones is because it's just perfect for the needs of the normal leisure user.
You might also like...