Mobile Phones and Study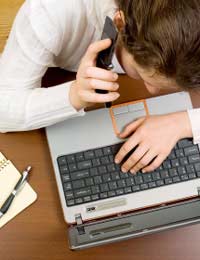 The UK education system has a particularly fractious relationship with the mobile phone - but is banning its use in schools the way forward or can mobiles actually help children to learn?
The Mobile Phone Threat
It's hard to overestimate how reviled mobile phones are by education authorities. They are seen as such a threat to normal classroom life that many schools have now banned their use on their premises and one teaching union has even called for mobiles to be classed as 'potentially offensive weapons'.
But what has the mobile done to attract such hostility in the world of study when it has generally been accepted in most other aspects of society?
Firstly it has been adopted by many pupils as a tool to aid cheating in exams. During the course of one summer term 287 school and college students were disqualified from exams for misconduct involving mobile phones. Some of the guilty students had tried to receive answers to questions using text messaging.
Unruly Teens and Cyberbullying
More disturbing however, is how the mobile phone is being misused by pupils to bully their teachers, a practice dubbed 'cyberbullying'. Hundreds such cases have been reported and included:
mobile phone photographs of teachers being uploaded to the Internet.
pupils setting up an Internet page about a teacher on a social networking site and inviting other students to post insulting messages.
a teacher being barraged by calls on their mobile phone and called a pervert and a paedophile.
students posing online as a female teacher and urging men in chat rooms to attack her husband, claiming he is abusive.
Crackdown on Bullying Teens
The government responded to the problem by declaring a crackdown on cyberbullying, and has given teachers the power to confiscate mobiles from their students. However, union leaders say teachers are still being targeted by bullies and many schools persist in ignoring the problem. As well as mobile phones being classed as potentially offensive weapons, they want online allegations banned and the cyber bullying of teachers to be treated as a serious disciplinary offence.
Positive Potential of Mobile Phones
It seems that technology has allowed unruly kids to cause disruption and distress in a manner that is much harder to control and much more damaging than ever before. Unfortunately such misuse of mobile phones in schools is undermining their potential for positive study role.
However, as almost every teenager owns a mobile, it will likely prove impossible to ban their use in the classroom completely. So perhaps the way forward is to accept their ubiquity, tune into the pupil's technology and turn it into an advantage?
Using Technology to Spark Kids' Enthusiasm for Learning
A teacher at a Scottish junior school is going against the tide of anti-mobile sentiment by doing just that. She teaches primary her pupils to use Bluetooth, camera, and video and voice recorder functions in the belief that mobile technology is a great aid in encouraging students to learn.
In French lessons, for instance, the teacher can send recordings of how to pronounce words and phrases to each member of the class using Bluetooth wireless technology. Instead of pupils finding themselves at home unable to remember how to say the words they can then refer to their mobile recording.
Just as it took a long time for computers to be accepted by teachers as an integral part of the classroom, it seems likely mobile phones will take time to be recognised for their great potential as learning tools. But with more than three times as many mobile phones in the world as personal computers, the sooner they are the better.
You might also like...