Mobile Addiction: Is it a real problem?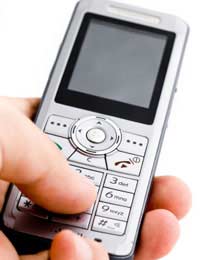 Mobile phones have become such an important part of young people's lives that an increasing number are showing signs of alarming dependency. Is mobile addiction becoming a real problem?
The Ever Present Mobile Phone
If you spend a short period of time in the company of the average young person then the mobile phone will inevitably make an appearance. With some it will be a constant presence. If they are not texting, making a call or just fiddling with it, then they are clearly thinking about it, anxiously waiting for it for it to beep into life.
Symptoms of Addiction
It's no surprise then that, according to recent research, as many as 1 in 6 young people could be addicted to their mobile phones. A study of more than 100 students aged between 18 and 25 found that a large percentage of them displayed symptoms more commonly associated with compulsive gamblers.
They admitted being dependent on their mobile phone to lift their mood – suffering from irritability, feelings of depression and lack of self esteem if it didn't ring - lied about how often they used it and frequently borrowed money from friends and relatives to foot their mobile bills. In more extreme cases, texting addicts suffered from sleep deprivation and cases of RSI from tapping obsessively through the night.
What's Behind its Compulsive Power?
Why is the mobile phone having such a compulsive power over young people? Many believe the mobile has cultivated a new type of social addiction whereby individuals find they have to be in constant contact with their peers.
The psychological effects of the mobile might also relate to the increased stress levels caused by mobile phones. When a group of students were banned from using their mobiles as part of a study, in a mere three days their blood pressure levels were lower and they suffered fewer annoyances and hassles going about their everyday lives.
The doctor conducting the study said that, despite the troubling findings, they were still uncertain the symptoms were proof of proper addiction or simply signs that the subjects were suffering more from the strains of modern life.
Problem for Child Users
It is feared that any effects on a person's health and emotional well-being could be even more pronounced for child users. Already there have reports of cases where children have exhibited disturbed behaviour and struggled to pursue normal lives as a result of perceived mobile addictions.
In a recent well-publicised case, two Spanish children aged 12 and 13 were admitted to a mental health centre suffering from severe dependence on their mobile phones. The pair were spending an average of six hours a day glued to their gadgets, and their school work and relationships with family and friends were suffering as a result. They were even found to be guilty of deceiving relatives in a bid to secure more money for phone cards.
Ever since the mobile phone became popular in the early noughties, there have been increasing concerns about the damaging psychological impact of mobile use, particularly in relation to text message addiction amongst the young, which was seen as an 'accident waiting to happen'.
You might also like...