How Mobile Phones Integrate With Software Packages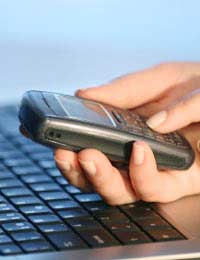 Just like any computer device, mobile phones need software in order to run, but what is the software exactly and does it make a difference?
Operating Systems of Mobile Phones
Whether it's Linux or Windows, all computers require some kind of operating system in order to function. It provides the software platform from which all other programmes run. So naturally, with mobile phones increasingly behaving like miniature personal computers, they also need an appropriately sophisticated but user-friendly operating system.
The mobile operating system is responsible for determining the functions and features of the device, such as keyboard controls, WAP, application synchronisation, downloads, email and text messaging.
It will also decide which third-party applications can be applied to your mobile. And with mobile phones no longer limited to simply making calls and sending text messages, the software that powers these devices has become increasingly significant, and as such a significant battleground between developers.
Can You Choose an Operating System?
What is the mobile operating system on your phone, and does it make any difference? Many users are oblivious to the operating system they are using because when they purchased the phone they are not given the option of choosing one, the manufacturer will have already specified which software the phone uses. All the software is provided for free and kept up to date by the service provider, leaving the consumer left to choose the handset they want.
With no software yet devised able to work on all mobile phones, there are a large number of different operating systems currently available on the market. The main players are Symbian, Windows Mobile, Palm, Mobile Linux, MXI, BlackBerry, Android and iPhone.
Nokia's Symbian Software
In powering well over 2 million smartphone handsets, Symbian is currently the world's most popular operating system. Its appeal lies in its solid functionality – decent email, calendar and web browser, and a large global development community - but it is let down by its overly complicated interface. There is certainly room for improvement and so it's no surprise that its dominance is being challenged.
When the British software company Symbian was acquired by Nokia, industry experts saw the move as an effort on behalf of the mobile giant to try and counter the growing threat of Apple and Google and their more user-friendly phones.
Beyond Music Downloads: iPhone Software
The attractiveness and superb usability of Apple's iPhone has made its operating system an instant crowd-pleaser and consequently a strong competitor to Symbian. Running a modified version of Mac's OS X, the iPhone software is some of the most powerful and modern available, with its user-friendly internet browser, music playing and ability to run third-party applications being roundly hailed. Nevertheless, no current operating system is a sure-fire winner and the iPhone has its faults; its inability to do basic things like copy and paste or MMS, and even make a phone call efficiently is proving a particular bugbear.
Google's Android
Perhaps the biggest threat to Symbian is Google's Android, which is pulling out all the stops in a bid to be number one software choice for mobile manufacturers and developers. Besides offering a modern and powerful facility geared around constant internet access, the Android's status as a free open source platform will likely prove hugely tempting for developers who want free reign on their application innovations.
BlackBerry and Windows Mobile
Other mobile operating systems currently in use include the BlackBerry by Research in Motion (RIM) and Windows Mobile.
Widely considered to be the best smartphone for email, the BlackBerry's ease of use and serious business-like demeanour has made it the smartphone of choice for corporate suits. It is only recently started to make its mark as a consumer toy, but its progress might be let down by its closed off operating system, which means you've got to buy BlackBerry to get the software.
Although many users might be drawn to Windows Mobile because of their familiarity with the desktop platform, they'd soon discover that the similarity ends with the name.
Rather than being the consumer standard this is designed for business users, who wouldn't be as put off by its poor user interface, unappealing looks and in generally lacking as a media phone. On the positive side, it is able to run on handsets from several manufacturers and can operate most advanced mobile software.
You might also like...