Should Younger Children Have Mobile Phones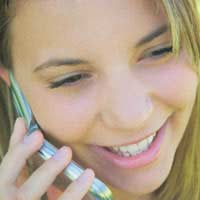 In allowing our youngsters their own mobile phone, are we putting them at risk of serious health dangers as well as bullying, pornography and paedophiles?
Ignoring Mobile Phone Health Risks
When the Stewart report, the landmark review of the health effects of mobile phone technology, was released in 2000, it concluded that while handsets were comfortably within radiation guidelines, parents should limit mobile use among children because their still developing nervous systems might pose a much greater risk. However, with 40% of British primary school children now with their own phone, and the average age of users steadily decreasing, it seems Sir William Stewart stern safety advice for parents has gone unheeded.
The populace has ignored Sir William's words of warning because, despite being a subject for ongoing debate and study, there is still no direct evidence to suggest the low level electromagnetic radiation emitted by mobile phones poses a health threat to children. Until conclusive proof is uncovered, then any cautionary scientific study or news story will be treated as scaremongering, and rising popularity of mobiles amongst the young will be unaffected. However, the big worry is what if the evidence does arrive, but just too late?
Cigarettes of the 21st Century
Mobile phones are being referred to as the cigarettes of the 21st century because by the time their long-term health dangers are proven, the nation will have been long since addicted. It is clear that mobiles have little to no short-term impacts on users but researchers worry that the long-term effects could prove serious, and whilst there is no direct proof yet, there is no counter evidence either.
If radio-frequency electromagnetic fields emitted by mobiles do turn out to pose long term health dangers – such as tumours, cancer or brain damage - then they would have as much as three times the impact on children, because their brains and tissues are not fully developed. Can parents really take such a risk with their child's health? Some therefore believe that mobiles, like cigarettes, should be branded with health warnings to remind parents of the potential dangers.
Banning Mobile Phones from Children?
The standard rule with regards to children and mobile phones is that kids under the age of 8 should not be allowed to use a mobile at all because they are the most susceptible to the potential health risks. Those children between the ages of 8 and 16 should only use mobiles for emergency calls and texting.
Of course, in becoming such an intrinsic part of a child's social world, it is perhaps unrealistic for all parents to ban their children from using mobile phones completely. However, they are advised to take action in limiting their mobile use, for instance by encouraging them to text-message rather than phone.
Further Mobile Safety Risks
It's not only concerns about the effects of radiation exposure that parents need to consider when allowing their child to use a mobile phone. From running up excessive phone bills, mobile bullies, accessing inappropriate online content to paedophile grooming, there are now a catalogue of worries associated with mobile phones and children.
Here are some safety tips to help relieve some of the worries about your child using a mobile phone:
Choose a mobile phone for your child that has just the basic functions of calling and texting, rather than a smartphone with the latest functionality, such as downloading pictures and music, surfing the web, and other safety risks.
Choose a pay as you go handset rather than a contact phone. This way you can keep tabs on their spending and avoid the risk massive bills.
Protect the mobile with a PIN code.
If your child has a phone with Internet access then agree browsing restrictions with them and speak to the network operator regarding filtering and blocking access to certain websites.
Remind your child never to reply to text messages from unknown senders.
Discourage your child from giving out their mobile number to anyone except trusted contacts.
Encourage your child to only call when absolutely necessary, and opt for texting instead, to protect them from the potential dangers of radiation.
You might also like...