I Use My Mobile Phone to Manage My Diabetes: A Case Study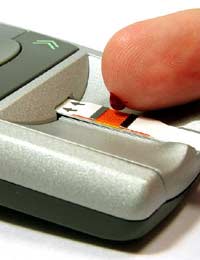 Katie has been diabetic since she was 12 and knows how important it is to keep her blood glucose level tightly controlled. "My mum is a nurse and she read up so much about diabetes when I was first diagnosed and she made sure I understood how important it is to have good control. I want to avoid, or at least delay, many of the long-term problems that can arise – eye problems, nerve damage and kidney problems," explains Katie.
She was one of the first diabetics to use a watch blood sugar monitor on a regular basis. "This technology came in about 10 years ago and the device looks like an ordinary wrist watch – not very fashionable – but you can't have everything," says Katie.
Exploring New Technology
Working with her specialist and GP, Katie has been a model patient and controls what she eats, the times that she eats and manages her insulin injections to the minute. "I experimented with long-acting insulin and we have managed to get the strategy just right over the years. But with diabetes, its never that simple. Blood sugar fluctuations can occur for all sorts of reasons and with the best will in the world, you get tired, you get busy, you miss a meal or you are late with a treatment," she says.
Two years ago, Katie's GP suggested she might like to take part in a trial of some new technology to help diabetics keep their blood sugar under control. "She knew that I was already so strict about control and that I would be a good candidate for following the instructions to the letter," comments Katie.
She had to go along to a centre in Oxford to find out more information but was happy to participate in a trial of new software that linked diabetic watch monitor with a central computer and her mobile phone.
Using a Mobile Phone to Monitor Blood Sugar
The basic principle of the system was that Katie used her sensor watch as usual and kept to her usual routine. The readings from the watch were blue-toothed to her phone, which then transmitted them to the network system at the Oxford centre. The data was analysed during each day and Katie got a text report at 7pm each evening to show how well her blood sugar had stayed within the required limits during the day.
"It was a really good way of doing things – normally, my phone beeps if my blood sugar goes out of range but otherwise I tend to ignore it. Although it stores some readings, it only gives about 4 snapshots during the day it can be a pain to keep checking it more often. With the new system I could see how my blood sugar varied across every minute of every day on the trace that I could download via email. The reports by text alerted me to any variations that I really needed to look at."
Improvements in Control
One thing that surprised Katie, and her GP, was that her blood sugar, although well controlled, still showed room for improvement. "One thing that was really obvious was that the time before my period was a real danger time for me. Maybe I was more prone to turning to food for comfort around then, or I just had a few lapses with chocolate, which I am supposed to avoid..." she recalls.
But having the text reminders each evening provided Katie with a good and constant reminder, even during 'that time of the month'. I was less likely to succumb to temptation and I kept to my diet and regime better. I also recognised that I wasn't getting enough sleep generally, as the long-acting insulin I was having was making me slightly hypo at around 6am. I have now adjusted the dose with the help of my GP – only a tiny amount, but its making a big difference and my blood sugar is constant right up until breakfast now," she adds.
Mobile Phone Technology for Diabetics
Several small trials of the system have been successful and similar technology is already in use in some parts of Europe and the US. "I can see this really taking off – its a great way to make modern technology work for your health," says Katie.
You might also like...