Security Issues for Mobile Phones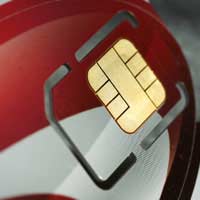 The latest mobile phones may boast a mind boggling array of amazing features, but with every new innovation comes a new security risk.
Increased Security Risk
As our mobile phones evolve into mobile computers eager to organise and facilitate every aspect of our waking lives, we are becoming increasingly dependent on their brilliant efficiency. However, the danger with any item that contains the keys to our life and which is carried around in our pockets and handbags, is that the mobile phone presents a formidable security risk.
No one is more aware of this than the mobile industry itself who face a new set of security challenges every time a new feature is conceived.
New Security and Safety Challenges
The launch of mobile banking, for instance, has been undertaken with utmost care to ensure watertight security and guard against any breaches, which could be fatal for such a sensitive area as customer finance – and one which will be a major future component of the mobile experience. IP profiling, which has been one of the key tools in combating online banking fraud, is expected to play an equally important role in the security solution for mobile banking.
New mobile payment and ticketing solutions demand secure transmission and storage of important financial data, and social data is compromised by content sharing applications and online gaming. As the mobile phone continues to offer features that are so new and innovative, the experience and know-how is not always in place to deal with all the potential security and safety problems.
Threats to Privacy
Privacy is threatened by new tracking applications, which enable somebody to enter a mobile number into an online site and then locate the device on a map and follow its movements.
The right to privacy first became a serious issue with regards to the mobile phone when the mobile camera was first launched. What provoked so much controversy was that, in being so small and inconspicuous and available to millions of mobile users, the camera phone could facilitate, and even encourage, the taking of covert and voyeuristic photos.
Increasing Phone Desirability
Another concern is that the more features the phone accumulates – such as the camera, as well as video messaging, music player, GPS and video games – the more desirable it becomes to the thief. Mobile phone theft has become a serious problem in the UK, with over 700,000 mobile phones reported stolen in 2007 alone.
Victims are not only faced with the loss of their valuable gadget but the possibility that the thief could run up a costly mobile bill and even exploit the private information held within it. It took a mobile crime wave for efforts to be undertaken in shoring up the gaping hole in this channel of mobile security. In 2007, the major mobile networks introduced a system that would ensure that all stolen mobile phones are completely blocked within 48 hours. For this system to work mobile users must record their phone's IMEI, which is its unique serial number and report to their network operator if the mobile is stolen.
More Efficient Security
Considering the incredible sophistication of mobile technology such security techniques seem a little quaint and unequal to the innovation they are meant to protect. Technology brains are attempting to redress the balance and make the process a touch more efficient with a new system called text bombing. This involves a theft alert being activated when a mobile is stolen that immediately detonates all the information on it, and renders it unusable.
You might also like...
@C - thank you for your comments. The second word has been changed. In the UK (where the sites are based), we spell 'organise' using an 's' rather than the US way using the letter'z'.
MobilePhonesAndSafety
- 23-Mar-15 @ 12:43 PM
I couldn't help but notice that there are two miss-spelled or incorrect words on this page just in the first section. The first is "organise -- organize The second is the use of the the word "that" in the phrase -"aware of this that the mobile"... the word should be "than" shouldn't it?