How to Prevent Mobile Phone Theft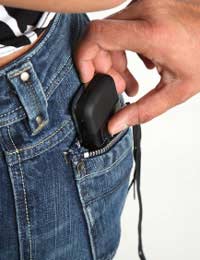 Mobile phone owners should take steps in helping to prevent becoming a victim of mobile theft, one of the most common types of robbery in Britain.
Protect Your Mobile Phone
Despite as many as 700,000 mobile phones being reported stolen last year, mobile theft has seen as significant fall as a results of efforts by the mobile phone industry and home office to make the crime a less profitable one. 2007, for instance, saw the major mobile networks launch systems that would ensure that all stolen mobiles are blocked within 48 hours, thereby effectively rendering them totally useless.
Nevertheless mobile phone theft is still a significant problem - a situation not helped by the increasing desirability of each new range of handsets. It is therefore important that mobile owners adopt a few simple precautions to help stop them from becoming a victim of this crime.
Increase Awareness
Simply by being aware of your surroundings whilst using a mobile phone in public can significantly lessen your chances of becoming a victim. For instance, whilst your mobile phone is on view you will always be a target for thieves, and so it should only be taken out when it is needed.
When you do pull out your mobile handset in public, make sure you are in an environment you feel comfortable in. Stations may be a common place to need to use a phone but in being such it is a hot spot for mobile thieves. It is also advisable to only use your phone whilst stationary and in a spot that will enable you to talk and observe your surroundings at the same time. Mobile users who walk and talk are particularly vulnerable because thieves know that they are at their most distracted.
Of course hiding a mobile phone cannot mask its presence from undesirables if it decides to ring. To avoid attracting unwanted attention it is therefore wise to set the device to vibrate whenever possible.
Safety Strap Solution
One simple but effective solution of helping to protect your mobile phone from theft is to attach it to a safety strap that is either worn around the neck or attached to a belt or a bag, and then kept out of sight. Of course this method would be ineffective in a mugging situation but might be enough to guard against your phone being snatched from you whilst you are unaware.
Recording your Security Data
It is important to remember that if your mobile phone is stolen the first thought should not be how I can retrieve it but how I can stop anyone else using it.
Firstly, it is vital that you always use the phone's built-in security lock, which should be standard on any mobile and typically takes the form of a PIN number lock. Try to memorise this number rather keep it on your person where it could be found by the thief.
In addition to making a note of the model, phone number and PIN number details, it is also now advisable to record your phone's unique reference number, or IMEI, as this will enable most network operators to permanently disable the handset if it is stolen. This code is usually printed underneath the mobile phone battery but alternatively it can be retrieved by dialling '#06#'. The network will disable you phone within 48 hours if you report the incident to them and provide the IMEI.
Ultraviolet Marking
A more low-tech method of both tracking your phone and making it unappealing for thieves is to mark the handset with an ultraviolet pen. It is recommended that you write your postcode and house number underneath the battery and on the battery itself.
Register for Immobilise
The problem with the IMEI block is that you are effectively resigned your gadget friend to the scrap heap, so if you'd rather employ a method that offers some hope of retrieval then it is well worth registering your phone with the Immobilise website.
Launched by the Home Office in January 2005, the Immobilise website allows mobile phone owners to log their device for free on the National Mobile Phone Register. This searchable database means that any stolen mobiles uncovered by the police can be immediately tracked back to the owner.
You might also like...
my nokia c3 mobile losed on 5th june 2012 but I could not trace the mobile through any other sites. I also went to police station for F R Ibut I should not got the my mobile
anant
- 5-Jul-12 @ 8:14 PM