Mobile Banking: Security and Fraud Issues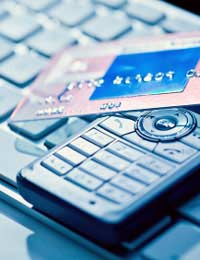 Mobile banking is set to revolutionise the way we manage our money in the same way that Internet banking did, but in an age of rampant cyber crime, security is the primary concern.
Security Concerns About Mobile Phone Banking
With 95% of the UK populace owning a mobile phone, it was inevitable that mobile banking would the next way forward for money management. IMS Research from 2008 predicted that mobile banking would grow by 662% over the ensuing four years.
However, if mobile banking is to attract that enormous user base then it must first deal with the security and fraud issues that have plagued Internet banking predecessor in recent years. With phishing attacks alone estimated to have duped 23% of net users during 2008 – 20,682 incidents were reported in the first half of that year alone - it's understandable that consumers are concerned about the security hazards associated with this new channel.
First Steps of Mobile Banking
Mobile banking – also known as SMS banking or m-banking – is the term used to describe performing banking functions like balance checks, account transactions or payments with the aid of a mobile device such as a mobile phone or PDA.
Lloyds TSB were the first UK bank to allow its customers to use their mobile phones to transfer funds between other accounts with the same bank when they introduced new software in October 2008. With the aid of a mobile with both colour screen and Internet access, customers could view their balance or transfer funds between their own Lloyds accounts once they had downloaded the appropriate software and entered in the six-digit security code.
Although the software was available to allow bank holders to enact payments to other people's accounts, the banks are choosing to bring in the new functionalities slowly so that watertight security can first be fully ensured. Banks are also keen to make the new system easier for customers to use than anything experienced before.
Mobile Security Issues
With Internet security concerns like Trojans and malware migrating to the mobile phone, banks are expected to use their experiences with such threats in online banking to help ensure the safety of this new mobile channel. IP profiling has been one of the key tools in combating online banking fraud and is expected to play an equally significant role in the security solution for mobile banking.
IP profiling enables banking institutions to set up monitoring using the customer's IP address and port number. This code can be compared against black listed addresses or used to determine whether an IP address is being used outside of the customer's typical activity patterns. IP profiling has already been successfully used to monitor mobile banking by the National Australia Bank (NAB).
If this powerful tool is combined with other security safety features such as two-factor authentication and an enterprise fraud monitoring system within the bank, then this will go a long way towards mobile banking achieving its goal of ultimate security.
It is not only security concerns that have meant mobile banking has been slow to take off – the somewhat more pressing issue of global financial crisis has been a bigger priority for banks than industry innovation.
You might also like...