Mobile Phones and Pedestrian Safety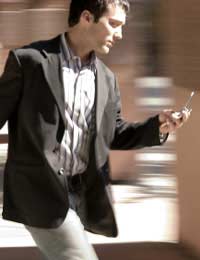 Crossing the road while distracted by mobile phones has become one of the chief causes of accidents on UK roads, and campaigners are trying to make traffic awareness the number one priority for pedestrians.
Safety on the Roads
Youngsters are so wrapped up in nattering with their friends and playing with their mobile gadgets when they're out on the streets that road safety is often resigned to being a secondary concern. With traffic being the number one cause of accidental death amongst 12 to 16 year olds on UK roads, this should be particularly worrying for parents. During 2007 alone, close to 2,000 children from that age group were killed or seriously injured in accidents involved motor vehicles.
The Distraction of Mobile Phones
At one time, listening to music and talking to friends were the chief distractions of teens out wandering the streets, but now the immense popularity of mobile phones has introduced whole other realm of mental diversion. It's now not uncommon to see teens – and adults – on the street so lost in their mobile phones that they're not only oblivious to the sounds around them but also where they are walking.
Distraction Campaign
In response to increasing concerns about such behaviour, government road safety campaigner 'Think!' has introduced a strategy to encourage teenage pedestrians to become better aware of traffic and to avoid distracting influences such as mobile phones whilst crossing the street.
The key messages of the campaign are:
Give the road your full attention when crossing the street – don't rely on the judgement of somebody else. But look out for your friends too.
Don't use your mobile to talk or text while crossing the road.
Be aware that listening to music while crossing the street is distracting, as you will not be able to concentrate properly on the traffic.
Don't take chances when crossing the street.
It's always safer to use a pedestrian crossing, so use one wherever convenient.
As part of the campaign, an advert was launched that attempted to show how dangerous UK roads can be for pedestrians and the importance of being constantly aware of what is happening around them. The powerful infomercial follows a group of friends strolling along the pavement messing about with a camera phone, oblivious to the world around them, until the merriment ends suddenly when one of the teenagers wanders distractedly into the road and is struck by a passing car.
Parental Responsibilities
Although teenagers are more independent - spending more time travelling on their own or with friends –and more confident around traffic than ever before, they nevertheless often over confident, and over estimate their road skills. This is why it is important that parents play their part in reinforcing their child's basic road safety principles.
Parents can do this by first and foremost setting a good example themselves, because although children are the main target of the campaign, adults are far from blameless, and are known to practice the same bad mobile phone habits of their children.
Teenagers don't appreciate being talked down to and given strict rules to follow, so the best tact in making an impression on your child is to discuss with the dangers of traffic and the risks taken by people distracted by mobile phones and mp3 players. When you out on the street, you might, for instance, point out those people that are endangering themselves.
You might also like...