Mobile Phones and Remote Workers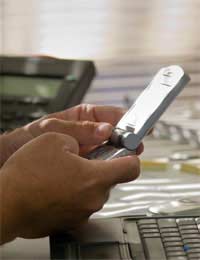 Employees away from the office need not be idle any longer, as modern mobile phones can facilitate remote working and in doing so help boost company productivity.
Working Away from the Place of Work
Business is no longer tied to the workplace. Mobile technologies such as laptop computers and mobile phones have meant that business doesn't have to start when an employee enters the office and stop when they leave. Time is money in business, and workers can now use 'dead time' spent away from the office, whether on the train, waiting at the bus stop or sitting at home, more productively.
The Benefits of Remote Mobile Working
Mobile phones are valuable remote working tools because they enable you to manage your business issues, make decisions quickly and look after clients on the road – such as by sending up to date information and applications directly to the customer's device - as well as get some of the dreaded admin duties out of the way. Mobile software is now available, for instance, that will help you to sort out your expenses or write to-do lists.
The positive of effects of mobile technology on productivity has been highlighted by recent studies. According to research by YouGov on behalf of T-Mobile:
83% of small business found they could respond to customer queries quicker.
58% of companies were able to process orders faster.
46% of employees believed remote working would aid productivity and standards by helping boost energy levels and in providing a better work/life balance.
The research highlighted that the ability to work in different locations when appropriate can enhance productivity, motivation and general well being. Ultimately a happier, more content workforce is more industrious workforce, and one which will have considerable benefits to a company's bottom line.
The New Remote Lifeline
Over the last several years the laptop computer has proved to be a hugely popular tool for remote working, particularly as Wi-Fi coverage and power point access has increased. However, it is not always practical to lug a laptop around the UK's transport system – packed commuter trains can be a serious damage risk - and the handier and more portable mobile phone is stepping forward and asserting itself as the new remote platform of choice.
With their smartphone capabilities, mobile phones have reinvented themselves from being simple voice communicators into mini-computers, able to perform the functions of both the laptop and mobile in one handy handset. With a variety of desktop-like programmes and features now available to the smartphone user, mobile workers are starting to question whether they really need to haul their laptop around at all.
The Mini Computer Lifeline
If all you need on the move is access to your contacts, diary and email at the very least, then a standard smartphone will do the job with great efficiency. They will synchronise easily with your desktop computer so that all your diary dates and contacts can be kept bang up to date. You can also carry presentations and spreadsheets around with you.
And as mobile technology continues its rapid advance, more and more desktop functionality will become available to mobile phones. What with global positioning systems (GPS), email, video and general office admin programmes, soon the only difference between mobiles and laptops will be their respective size.
The cost of using mobile technologies on the road has become affordable for small businesses, particularly with the arrival of flat rate data tariffs. It is currently possible to buy unlimited data for under £10 a month as part of any voice deal. This means that you can check emails without being charged any incremental fees.
You might also like...