Technology to Protect Your Mobile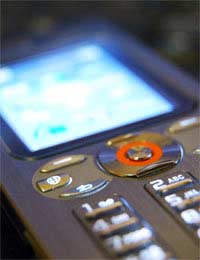 Everyone today has a mobile phone and as phones become more sophisticated, they store more valuable information. As well as stored numbers, contacts and email addresses, phones also store word files, mp3 files, photographs and videos. Losing all this important information is therefore even more of a disaster if you leave your mobile somewhere by accident, or it is taken from your bag or pocket without you noticing. But, with new phone technology, developers have also been working on technology to protect your mobile from both loss and theft.
I-migo - Protects Your Mobile from Loss or Theft
One device that is useful to both private and business users is the i-migo. This is a small alarm device that fits easily onto a keyring, that can then be added to a set of keys, into hand bag or even onto a neck chain, hidden under clothes. It has a dual purpose - it acts as a back up data store for all the information on the phone, which it picks up by a Bluetooth connection - and it acts as an alarm and immobiliser. If, for example, you leave your phone on a chair in a coffee bar, when you get a few feet away from your phone, the I-migo will sound its alarm to alert you that you are without your phone. It will also disable your phone so that someone who picks it up, or removes it intentionally from your possession, is unable to access it. You take the I-migo with you, so taking your important data and the phone that is lost or stolen is useless to anyone else.
The I-migo is useful to personal and business users - and is particularly popular for companies with employees who have mobile phones with potentially commercially sensitive information.
The 'Tie' Solution to Mobile Phone Security
Another development is to 'tie' the mobile phone to its SIM card. When mobiles are stolen, one way that thieves can pass them on undetected is to remove the original SIM card and unlock the phone to another network, replacing the SIM with a new one. Tied phones have the data within the handset protected and linked to the SIM card in the phone with a password and with encrypted data. Not only does this stop a new SIM being put into a stolen phone, it also destroys all data on the mobile phone, making it impossible for a thief to get access to it. So, you can be sure that if your mobile phone is stolen, your contact lists, recent emails and home contact details cannot be accessed.
Touch Safe for Mobile Phone Safety in Transactions
More technology aims to protect you while you are in possession of your mobile phone. More people than ever before buy goods and services online using their mobile, leaving themselves open to security issues relating to these online transactions and their financial details. With the TouchSafe system, you need to have a tiny card with you whenever you make an online purchase. This makes the transaction safe because it adds extra encryption.
Keeping Safe with Your Mobile
Even with all the technology in the world, you will not protect yourself and your mobile completely without using a bit of common sense. If you have a very expensive and desirable handset, it pays to keep it secure and to use it discretely in very crowded public places. Using new technology to protect your phone can then help in those circumstances, where the unexpected happens.
You might also like...