Can You Avoid Paying for Freephone Calls on Your Mobile?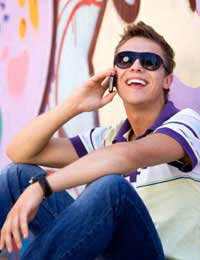 Companies often set up 0800 numbers so that they are free to call for customers who want to make service enquiries, or to pay their bills. The company concerned has to pay a rental charge for the number, and then pays a small charge per minute for incoming calls – usually 2p or 4p.
The problem is that these numbers are free to call from a UK landline but they are chargeable from a mobile. If you have a contract phone, any calls to 0800 numbers are not allowed for in the inclusive minutes. This means that if you have no choice but to contact an electricity company or another organisation with an 0800 number from a mobile phone, you could be paying several pounds for doing so.
Making Free 0800 Number Calls
It is now possible to get around this problem using an internet site called 0800buster, which you can do from your phone if it's capable of browsing the internet. Visiting this site generates a randomly generated landline phone number. If you dial this number and then input the 0800 number that you are trying to call, you will be connected but not charged. The mobile network registers the call to the landline number and includes it in its free call allowance.
An alternative to this is to look at the company's details and see if they also advertise a number to call if you are outside the UK. This will start with the +44 suffix – and will usually be a UK landline. There is nothing to stop you calling this number from your mobile, as this will be covered in your inclusive minutes.
Using either of these techniques may help you if you have to phone a large company to make a complaint. It may take a while to get through the automated phone system (time that is chargeable) and then you may be kept hanging on, or be passed round departments. Some cynics say that companies have opted for the numbers to benefit from some of the extra revenue generated from mobile calls, but there is no firm evidence.
Free Directory Enquiry Calls
Most directory enquiry numbers are not free to call from a landline or a mobile phone but there is one way around this. One number, 0800 118 3733 is free from a landline and, as it's an 0800 number, 0800buster will provide an alternative landline number to route you into it. The service is not the highest quality directory enquiries line – it is always automated rather than run by real people, and each enquiry does involve listening to some advertising. The voice recognition system can take a little getting used to and the call can take a few minutes and the music can be quite loud while you are waiting for the response. Usually, the first search comes back without a result because the first automated question is to ask for the address, not the area. Eventually, it does get the number and if you are happy to spend the time, this is a good option.
Are 0845 Numbers Really Local Rate?
Another trap to watch out for is 0845 numbers. These are often thought of as being local rate numbers and people think that they cost of making a call to them is going to be much cheaper than a national call. This isn't necessarily the case – a call to an 0845 number from a BT landline can be up to 7p per minute and considerably more if you dial the number from your mobile. These numbers are often sold to small businesses to make them appear much more professional and users think they are cheap – so everyone is fooled.
The best thing to do is never to dial a number without thinking of the potential cost. Using a landline to make calls, using a landline number not an 0800 or 0845 number and keeping tabs on your mobile statement is a good idea. Otherwise, there may be some nasty surprises when the bill arrives.
You might also like...