Mobile Phone Manners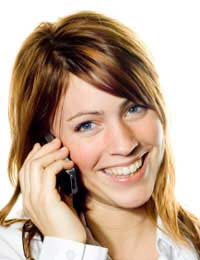 With the mobile phone now an indispensable aspect of many people's everyday lives, mobile manners have become a major issue, and the seeming lack of them a subject of great concern.
Inconsiderate Communication
The sheer volume of mobile phones now occupying the British Isles – over 50 million and counting – has perhaps made our lives more convenient but it's had a damaging effect on our social etiquette. According to a recent survey by YouGov, Brit's are inconsiderate when it comes to using their mobiles.
The study found that 62% of UK workers have poor mobile manners and fail to consider the effect their behaviour has on their colleagues, such as when they answer their mobile and send text messages during meetings.
Are you guilty of poor mobile manners? Do you interrupt face-to-face conversations with friends to answer calls from other friends? Do you speak on your mobile in quiet public places so that everyone else is forced to listen? Do you use your phone as an excuse to be late for appointments?
Mobile Phone Manners
As our lives increasingly revolve around the mobile phone, we have as a nation become oblivious to the effects our behaviour has on those caught in the midst.
Responsible mobile phone use is vital in maintaining good social relations. We don't have to give up our addiction but just think more about how we currently use our mobile and devise ways of acting more considerate towards others, whether it's at home, at work, out with friends, on the train, in the cinema or at the beach.
Ignoring People
One of the classic examples of bad mobile etiquette is texting or talking on your mobile whilst out at a pub or restaurant with a friend.
If your companion is wont to text whilst you are mid-conversation or interrupt you with a call, leaving you to fidget uncomfortably, then you have every right to bluntly make it clear that their behaviour is the height of bad manners and won't be tolerated. If it is an important telephone call that must simply be made or answered then they should excuse themselves and make the call in private.
Punctuality
When a survey claimed that two-thirds of us are regularly late when meeting people, the mobile phone was seen as the chief culprit for the decline in standards of punctuality.
At one time we arranged meetings well in advance and used our handy timekeeping devices to make sure we made it on time. Lateness meant suffering great embarrassment and having to apologise profusely. Punctuality standards have dropped so markedly because now we can use our mobiles to make our excuses and apologies for us, and thereby somehow ease the urgency of the appointment. If the person we are meeting knows we're going to be late then it's somehow acceptable. But of course it isn't - it's time to kick such friends into touch.
Raising Etiquette Awareness
Our problem with mobile manners has got to the point where even mobile phone companies acknowledge how annoying their products can be. Some have made efforts to encourage their customers to be more considerate of others.
Orange, for instance, devised cinema adverts that served to remind everyone in the theatre of the intense irritation of hearing a mobile ring during a film. Vodafone have even published a mobile etiquette guide.
To help raise awareness about the importance of observing mobile etiquette here are some further tips for good mannered mobile users:
Utilise the mobile's 'silent' setting when inside public areas.
Use text messaging as a way of reducing the social intrusion of a call. The recipient then has the opportunity to respond or call back when convenient.
Alter your voicemail message so that it asks callers to send a text rather than leave a message.
Rather than phoning in a public place, and annoying those people around you, wouldn't a text be sufficient in conveying the communication?
Do not use all capitals when writing a text message as it reads like you are shouting.
You might also like...