Business Uses for Mobile Phones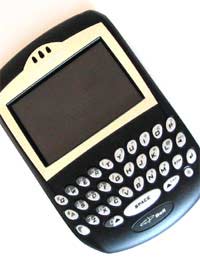 The mobile phone is no longer just a way for business people to communicate with one another but has become a business tool in itself.
Executive Toy to Business Tool
By the time mobile phones caught the consumer mainstream in the late 1990s, they had already been a popular accessory for business people for over a decade, emerging in the yuppie era of the 80s. However, despite its long associations with business, mobile phones have only recently started to take advantage of their potential as a handy business tool.
For many years the mobile phone was more executive toy than business tool. It was expensive, heavy and offered dodgy coverage inside buildings or outside the city - basically it was less good business sense and more a good way to fritter away money trying to look 'the business'. However, cheap and multi-tasking mobile phones, with fast, more cost-efficient data connections has made the mobile a mainstream business tool and altered the way many businesses operate.
Incorporating Business Mobility and Networking
While the first and second generation of mobile phones were largely focused on voice and SMS, features such as video calling, email, laptop synchronisation, Internet access, are now becoming standard and are allowing organisations to transform their business processes by incorporating mobility.
2002 saw the appearance of the first business mobile, Research in Motion's (RiM) Blackberry. This efficient smartphone quickly earned a loyal user base in the business world because of its easy-to-use and reliable email application and its filofax-like functioning. RiM had clearly recognised that on the move email is arguably the number one facility for any mobile with aspirations within the business community. A study by one market research company claimed that a Blackberry-assisted employee can save up to 188 working hours a year.
Nevertheless for simply the added bonus of a mobile email facility, the Blackberry was an expensive product and - considering a lot of company staff use very specific business tools rather than general office applications - too much of a niche market. To be adopted as a business tool standard, a mobile phone needs to offer a range of efficient on the move applications.
Networking and Advertising Applications for Mobile PhonesThe applications that are seen as the key drivers for enterprise mobility include field sales and field service automation, and access to company resource planning and customer relationship management systems. For instance, if you work on the move, as a health inspector, sales or advertising representative, social worker or field engineer for instance, then you can now record your data into a mobile linked up to the home office system, thereby saving you the time and effort of having to constantly return back to office.
Another smartphone that has one eye on the business user, the Windows Mobile, offers a level of security efficient enough to get many such specialist software applications up and running. One company that opted for a specialist Windows Mobile-based application that facilitated field mobility access claims that its productivity doubled almost immediately.
However, in order for such systems to catch on amongst the workforce it is imperative they are reliable and secure, as well as quick and easy to use. The cost of data connections is becoming less of a concern as fixed-rate, large capacity deals and cheap Wi-Fi become the norm.
Add-On Applications
Other add-on applications now available to the business mobile user include global positioning system (GPS) software and security applications, such as mobile Virtual Private Network (VPN) as well as remote device management solutions.
Users can also now opt for umpteen different specialist applications that allow you to set up and track your accounts, manage your business with a clever profit and loss account facility, track your business expenses with a dedicated programme and there's even a facility for recording your golf scores!
You might also like...