Mobile Phone Applications for Business Use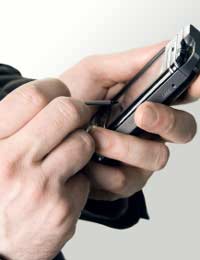 An ever increasing array of applications are helping to turn the mobile phone from a communication device into a vital tool for any business on the move.
The Emergence of Business Mobile Phones
Although mobile phones have been a desirable accessory for business people since they first emerged in the yuppified era of the 1980s, it's arguably taken them almost two decades to actually warrant their space in the briefcase and become a useful and cost-effective business tool.
The first application that revolutionised the world of business mobile phones was email. When Research in Motion's (RiM) smartphone, the Blackberry, was first launched in 2002, its easy-to-use and reliable mobile email service made it the business person's new best friend, driving large-scale adoption of the 'electronic filofax'.
Several large organisations have since attributed big returns on just having adopting mobile email. Market research company Ipsos Reid has claimed that a Blackberry-equipped employee can save as much as 188 working hours a year.
Advanced Application Technology
Nevertheless mobile phones need to do more than just facilitate on the move email and voice communication if they want to be adopted as a business tool standard. Mobile applications had to move beyond email if they were to be taken up by businesses, they had to effectively turn mobiles into mini-computers.
The array of mobile applications now available have been designed to help reduce costs, keep employees connected, as well as improving quality of service to customers. Not only can mobile employees maintain basic access to email and office functionality, but field operators can use more specialised applications to keep them linked up to home base.
Basic Office Applications
Mobile phones that support Microsoft Office can be used to view and edit documents, spreadsheets and presentations. They can also offer advanced Internet browsing and be used to view Portable Document Format (PDF) documents.
Another key facility of business mobile phones is data synchronisation. This means your mobile calendar, contact list, pictures, for instance, can be kept as up-to-date as your PC by means of super fast information synchronisation between the two platforms. This wireless or cable connection could also be used to transfer information between phones or from phone to PC, or send text messages from a PC.
Add-On Applications
Other add-on applications available to the business mobile user include global positioning system (GPS) and security applications, such as mobile Virtual Private Network (VPN) and remote device management solutions.
Users can also opt for special applications that allow you to set up, view and track your accounts, manage your business with a detailed but easy-to-use profit and loss account facility, as well as track your expenses with a dedicated programme.
Mobile Field Force Technology Applications
One area of mobile applications that has had the greatest impact on business efficiency and productivity is that of mobility system access, such as field service management solutions and sales force automation.
For instance, instead of inspectors, sales representatives, health visitors or field engineers having to return to base to log their data, specialist applications allow them to do it on the move using their mobile phone, thereby saving the company amount of time and effort.
You might also like...