Using Mobile Phone Internet Tailored Services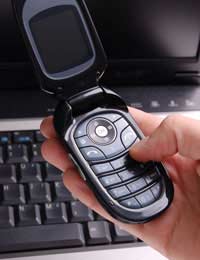 The mobile phone is not only being tailored to offer on the move Internet access but now also free web calling via VoIP services like Skype.
Skype and the VoIP Revolution
A few years ago a company from Tallinn, Estonia turned the world of telephone communication on its head. In enabling people to engage in free voice-to-voice calls across the web, Skype achieved – like Google, Hoover and others - the ultimate honour in being adopted as a popular verb. I Skype, you Skype, we are Skyping – in other words we are speaking to one another across the web using Voice Over Internet Protocol (VoIP) technology.
Skype and the other VoIP services were far from perfect – the quality is substandard and you are tied to your computer and headset - but they did offer a glimpse into the future of telecommunications. If we can correspond over the web for free using email then surely we can do the same for voice communication, and bypass the cost and restrictions of mobile phone operators?
Online Mobile Phone Calls
With 75 million people using Skype's computer software to talk to one another for free, a sizable market already in place for mobile phones tailored for web communication, and which would effectively render call costs a thing of the past.
First came the Wi-Fi Skype mobile phone such as the Belkin WiFi Phone, which meant that users didn't need a computer to Skype, they could just use their phone to connect to a wireless network. However, although better, this meant you were restricted by the availability of wireless signals and so were resigned to only being able to use Skype in wireless hotspots. The real way forward would be a device that would have built in Skype capability.
Although over 50 models were already capable of Skyping, this new era of VoIP communications and free calls was officially heralded by the release of the 3 Skypephone S1, a Skyping tailored mobile conceived by Skype in partnership with Hutchison's Telecom's 3 Network.
New Online Mobile Phone Business Model
Although Skyped calls made using such a phone may not cost anything, surely how 'free' the whole process is will depend on the nature of your network contact? This would all be fine and dandy if you have a package with limitless access but if you are charged for 3G data pro rata then the resultant large bills would cancel out any savings made on calls. Fortunately, the phone can use standard GSM for Skype usage and all calls between Skype users are free of charge. So regardless of whether you are beyond the reach of a 3G or GPRS mast, you can keep on Skyping.
Waiting for the Marketplace to Catch Up
For mobile Skyping to achieve its potential then the millions of people who now regularly use the computer-based facility would then need to adopt the mobile equivalent. The Skype phone is perfectly good for calling and texting other Skype users, whether they are using their computer or a Skype mobile, but it still costs to call landlines or other non-Skype mobiles.
The world of across the board VoIP calling is still a couple of years off yet. The business model of companies charging for call minutes will firstly need to fully adapt into one that offers 'all you can eat' mobile Internet access tariffs.
You might also like...